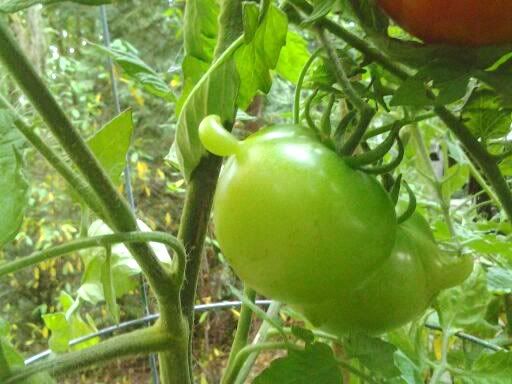 I looked at the computer tonight and thought: oh my god, I have to write a post! I'm tired! I have two 12-hour days coming up! So I considered. Quickly. Today's giveaway is quick and easy, I'm having an Amy's tofu scramble for dinner, why not make the post itself quick and easy?
So I present to you something amazing, but something some of you (PPK) may have seen before: adjacent horned tomatoes. They were growing on a plant I was tomato-sitting in August and September. Here they are ripe.

Hoveringdog
suggested saving the seeds and see if I could grow more tomatoes with horns next year. I had to give one of the tomatoes back with the plant, but I have the seeds from one of them. You might see another post like this next MoFo.
There, quick and easy, and the microwave has beeped.
* * *

Now! Your giveaway today is Alicia Simpson's third cookbook,
Quick and Easy Low-Cal Vegan Comfort Food
! Or rather, the promise of a cookbook.
The Experiment Publishing
will send the giveaway winner a copy of this cookbook upon its release in early January. Many thanks to The Experiment! Doesn't that cover make you want to know more? Much more?
From Amazon:
Here are recipes to satisfy and enjoy all day, from breakfast (Breakfast Biscuit Sandwich), snacks (BBQ Popcorn), salads and soups (Taco Salad, Corn Chowder), mains (Fettuccine Slim-Fredo) dessert (Moon-Dusted Donuts)--and even low-cal vegan beverage (Homebrewed Ginger Ale). Every recipe includes complete nutritional analysis (information frequently requested of Simpson by readers of her previous books). And Simpson has also crafted fifty different daily menus for eaters with daily calorie intakes of 1,400 to 2,000 calories, making it easier than ever to eat highly nutritious, varied, and calorie-conscious comfort food.
To enter the giveaway, leave a comment below. Tell me your quick and easy cooking tip, or what you make when you don't feel like cooking anything, or anything at all. This giveaway is open to US residents only, but others this month will be open to everybody everywhere. The winner will be chosen by a random number generator and posted tomorrow below tomorrow's giveaway. If you win a giveaway on this blog at some point this month, please be kind and don't enter further giveaways--I'd love as many people to win something as possible!
* * *
The winner of yesterday's
Sunny Days
zine giveaway is Carolyn, who is crazy about her husky Shelby! Congratulations! Please send your name and address to me at miso
...
@yahoo.com. (<---make sure to click on the . . . link for the rest of the email address. This is a spam avoidance thing.)