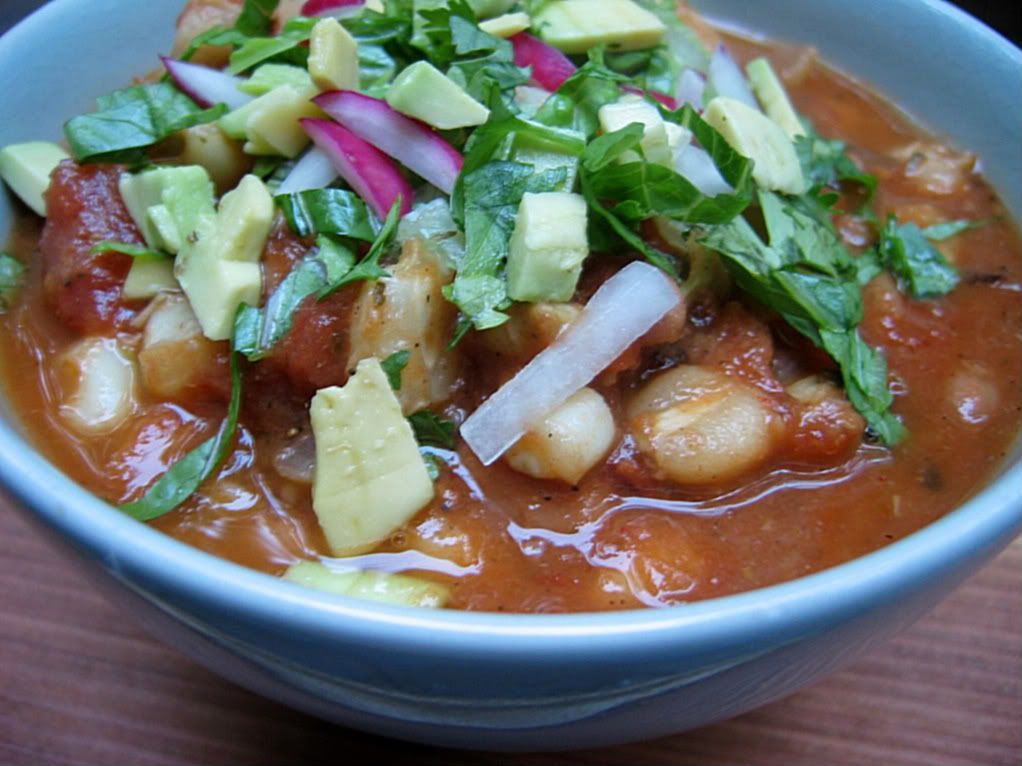 Yum.
I'm doing a giveaway for
Melisser Elliott's brand new book
today, so I asked her to recommend a recipe. I present to you a bowl of chipotle hominy stew. Let me tell you how delicious this is. It's also dead easy and comes together in a flash. Highly recommended, and I highly recommend using all of the suggested garnishes.
The giveaway details are down below, and please note that Melisser is currently undertaking a book tour in the eastern US, France, and England, so you may be able to buy a copy directly from her! Dates, times, and locations follow.
Chipotle Hominy Stew

from The Vegan Girl's Guide to Life,
with permission from Melisser Elliott
This warmly spiced Mexican stew gets a bit of zip from the chipotle peppers, and is full of chewy hominy and beans with a kick of lime. It's a great dish to feed to anyone, vegan or not, and can be dressed up with an array of delicious toppings!
* 1 tablespoon olive oil
* 1 medium red onion, diced
* 4 cloves garlic, minced
* 1 teaspoon salt
* 1 teaspoon black pepper
* 1 teaspoon ground cumin
* 1 tablespoon epazote or oregano
* 1 to 3 teaspoon adobo sauce from canned chipotles, based on your spice preference
* 1 chipotle chili, finely diced
* 1 (29 ounce) can of prepared hominy, drained and rinsed
* 1 (14 ounce) can of pinto beans, drained and rinsed
* 1 (28 ounce) can of diced tomatoes, preferably in juice
* 28 ounces of water
* Juice of 1 lime, 3 to 4 tablespoons
Garnish options:
* Chopped cilantro
* Radishes, thinly sliced
* Diced avocado
* Shredded lettuce
* Crushed tortilla chips
* Non-dairy sour cream
In a 5-quart saucepan, heat the oil over medium heat. Add the onion and cook 3 to 5 minutes, or until translucent. Add the garlic, cook for 2 minutes, then add salt, pepper, cumin, epazote, chipotle in adobo, and diced chipotle. Stir to combine. Add the pinto beans and hominy, and then add the can of diced tomatoes. Fill the can with water, add it to the pot, and stir to combine. Cover and bring to a boil, then reduce the heat and simmer for 10 minutes, partially covered. After 10 minutes, add the lime juice. Allow the stew to sit for 5 to 10 minutes to combine the flavors. Taste for seasoning, then divide among soup bowls and garnish as desired.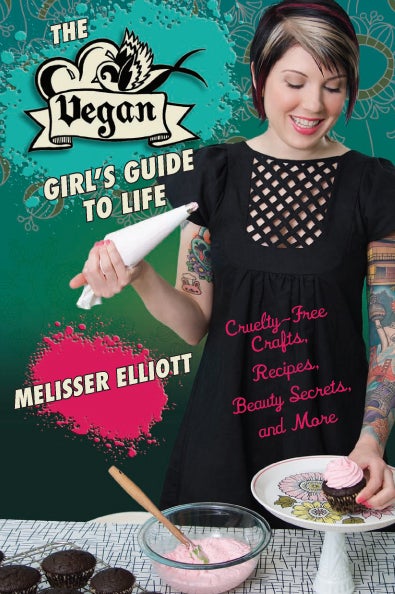 Tour dates!
The Vegan Girl's Guide to Life! Go say hi to Melisser and buy some books!
November 6th Jacksonville, FL Northeast Florida VegFest, talk at 1:30pm
November 7th Washington DC at Cafe Green, 4pm to 6pm
November 10th Philadelphia, PA at Grindcore House, 6pm to 8pm
November 12th Manhattan, NY at MooShoes, 7pm to 9pm
November 16th Syracuse, NY at Strong Hearts Cafe, 7pm to 9pm
November 17th Boston, MA at Peace O' Pie, 7pm to 9pm
November 20th Brooklyn, NY at Champs Bakery, 7pm to 9pm
November 21st Montclair, NJ at Go Lightly Eco Store 1pm to 3pm
November 28th Paris, FR at Paris Vegan Day, book signing and talk
November 30th Manchester, UK at The Thirsty Scholar, 6pm to 8pm
December 2nd Brighton, UK TBA
December 4th London, UK at Vx, book signing and talk 2pm to 6pm - 5% off all Vx purchases at the event!
December 5th London, UK at the Animal Aid Christmas Fayre, talk at 3:15pm, signing to follow
* * *

And now, the giveaway itself! Your very own copy of The Vegan Girl's Guide to Life from the generous people over at
Skyhorse Publishing
. I want this and am having a hard time giving this book up. I'm trying not to stick my nose in your book, but it is seriously fabulous, and if you are on the PPK, you know a bunch of contributors, bonus! To enter, please leave a comment below. Tell me a vegan tip of your own, or something you love about Melisser, or anything you like. This giveaway is open to everybody, everywhere, from Baton Rouge to Brighton to Seoul and all points in between!
The winner will be chosen by a random number generator and posted tomorrow below tomorrow's giveaway. If you have won a bigger giveaway from this blog already, please consider being kind and not entering further bigger giveaways--I'd love as many people to win something as possible! However, if you enter,
please
do check back. Michelle, email me regarding the Tofurky pizza coupon--your profile is private so I can't contact you! If I don't hear back from you, I'll add it to a later giveaway.
The winners of yesterday's Amy's giveaway are VeggieAmanda, Luciana, and Laura S. Noll! Nine, seven, eight, weird, right? Please send your name and address to me at miso
...
@yahoo.com. Congratulations to you three!