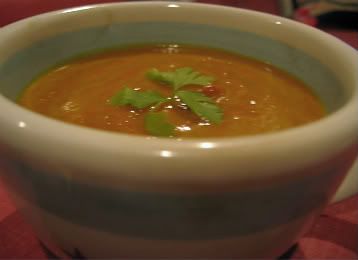 Ecch, sorry for the bad nighttime photograph! This is a bad photo of a batch of delicious curried carrot soup, a recipe I found in Joanna Vaught's
Yellow Rose Recipes
. The soup is very rich, so I added in lots of lemon to brighten it, and was happy. There's an optional cilantro garnish that I didn't use, and I am sure that would be a good taste-brightener as well. Anyway, if you have been considering purchasing YRR, now is the time to do so, because copies are dwindling fast. I hear there is an amazing green beans recipe in here, and I hear rave reviews about the sloppy Joannas and the mustard-crusted seitan
at the PPK
.
* * *

Today I have available a lovely cookbook from
Perseus Books
. It's Vegan Cookies Invade Your Cookie Jar, by Irish creme kiss developer Isa Chandra Moskowitz and triple blonde blondie maker Terry Hope Romero! If you are a baker and/or a cookie lover, you want this book filled with 100 vegan cookie recipes and lots of tips for perfect cookies every time.
To enter, please leave a comment below. Tell me about your favorite cookie, or about a cookie jar you remember, or anything at all. This giveaway is open to everybody, everywhere, from Toronto to London to Wellington and all points in between! The winner will be chosen by a random number generator and posted tomorrow below tomorrow's giveaway. If you have won a bigger giveaway on this blog already, please consider being kind and not entering more of the bigger giveaways--I'd love as many people to win something as possible! If you have won a smaller giveaway, by all means, enter this giveaway too!
The winner of yesterday's excellent Caribbean Vegan giveaway is Emmy in Frankfurt! Please send your name and address to me at miso
...
@yahoo.com. (<---make sure to click on the . . . link for the rest of the email address. This is a spam avoidance thing.)