The grocery store I am addicted to has beautiful squash lately, lots of it. In the photo above, you'll see celebration (the small round one that's pale yellow and dark green), delicata (the long yellow squash with green stripes), kabocha (larger, round, and dark green), and red kuri (deep orange). I roasted the squashies simply with olive oil, salt, and freshly ground white pepper to see what taste and texture differences I could discern. Here's my verdict.
celebration: sweet, slightly tangy, slightly grainy in texture.
delicata: not very sweet, slightly bitter, smooth texture. My least favorite.
kabocha: sweet, creamy, very yummy and full-flavored. This one is very popular in Japan, and it's easy to see why.
red kuri: slightly sweet, rich, dense texture. My second favorite.
I'm left wanting to make two pumpkin-type pies, one creamy one with kabocha, and one dense one with the red kuri. Not so much the other two. I have a memory that kabocha is often braised with a mixture of soy, mirin, and (sake?) in Japan. Is this kinpura? I would love to try that.
Verdict: go find yourself a kabocha!
However, don't wait too long to cook it. My first one sat out for a couple of weeks and when I grabbed hold of it to cook it, my fingers literally sank into the top-the shell was that . . . soft from kind-of-nearly-maybe-rot. There are no words for this experience. Learn from my mistakes!
Ahem. Yummy food giveaway below, after the sorbet to cleanse your palate.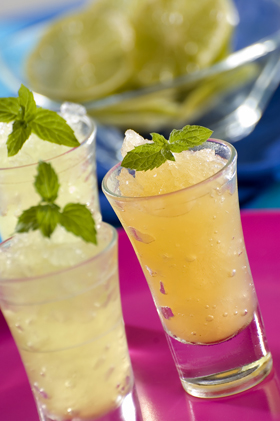 * * *
Today I have a free product coupon good for a bag of melty, stretchy
Daiya
! To enter, please leave a post below, telling me your about what you want to do make with Daiya, how you pronounce the word Daiya, or anything at all. This giveaway is open to anyone who can get Daiya products. The coupons do not specify where they can be used, so enter if you can buy Daiya where you live!
The winner of yesterday's wonderful giveaway for The Conscious Cook is Candy Bean! Please send your name and address to me at miso
...
@yahoo.com. Congratulations!