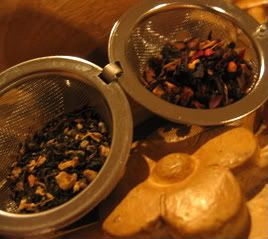 On my very first blog of MoFo, some of you might remember I did a giveaway for a little teapot and a variety of tea from Rishi Tea. I asked them if they would donate because they have always seemed like a lovely company. And they didn't disappoint me! On top of that, they actually thanked me for hosting the giveaway and sent me some tea! Not to review, just as a thank you. I'm excited about this, I am exhausted, and I wanted some comfort tonight. So tonight I will do a little tea tasting for you. I have four varieties of loose tea to try, all organic: Wuyi, an oolong tea; Cinnamon Plum, an herbal blend; Rishi Masala Chai black tea blend; and Green Tea Mint.
This tea is special. Each bag directs you to steep at a certain temperature for a certain number of minutes for optimal results. Cinnamon Plum and Masala Chai are best with boiling water, Wuyi just slightly less at 200 degrees, and Green Tea Mint at 195. So my plan is: boil my filtered water in my shiny silver kettle, steep the herbal tea and chai at the same time, let the water cool down just slightly, then try the Wuyi, and finally do the same with the Green Tea Mint. You get to hear about each as it happens: tea blogged Cosell-style. Let's begin.
Cinnamon Plum is lovely. Inhaling into the bag, it smells complex and deep and sweet. I can see from the ingredients list that I'm smelling currants. Once steeped, the tea is a pinky-red in color. I can taste the hibiscus (which I love!). It's a big tangy, and the cinnamon is mild. My very favorite Rishi tea has always been Tangerine Ginger, but this gives that one a real run for its money, especially in cool weather. This is wonderful.
The Masala Chai smells like, well, spicy chai, but there is a freshness that I don't usually experience with chai--it's usually kind of heavy-smelling, if that makes sense. The ingredients include a lot of cardamom, and that could be it. The directions say to add milk and sweeten to taste, so I splashed in some hemp milk and agave and sipped. It's really light and flavorful. This is a chai you could drink in the summer or the winter and be happy.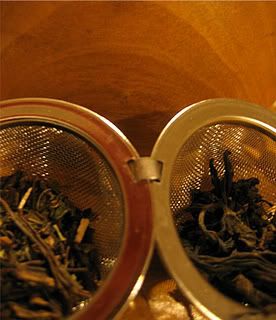 Wuyi smells grassy, sort of like a good green tea. It isn't my favorite of the four, but it's my favorite to look at--the tea leaves are huge and beautiful. I may have ruined my tongue from the spices in the others, because I can't taste the elements of it as well as I would like. There is complexity there, but maybe I am just not subtle tonight. I'll try this tomorrow for breakfast. I think it could be a nice tea to wake up to.
Green Tea Mint. The peppermint is unusual--it smells amazing. Lady Marmalade would like you to know that she prefers the smell of this one. (It appears that she prefers the smell of my scalp over the tea though.) I usually think green tea is a bit grassy tasting, but I like this! The peppermint makes it refreshing and I am thinking less about the grassiness. I am thinking it would be good iced in the summer.
And so concludes my tea tasting.
* * *
I am holding, in my hands, a copy of a book. It is a vegan cookbook. It is a vegan cookie book. It is . . . adorable, and it's courtesy of the very generous
Skyhorse Publishing
. The Vegan Cookie Connoisseur is a square little hardback book, and you can see from the cover that it's charming. The entire book is popping with color and flourish. There is a gorgeous color photo for almost every recipe, and some of them take up the whole page. You might actually wish you owned two copies , so you could keep the one you can't live without all dough-stained and vanilla-dripped in your kitchen, and one that you showcase in the living room because it's just so pretty. Here are three recipes I opened to at random: Cashew Cappuccino Nanaimo Bars, Glazed Lime Cookies, and Chocolate Jam Thumbprints. OK, here's another: Sticky Coconut Chocolate Chip Oat Bars.
Interested? I thought so. To enter this giveaway, please leave a comment on this post. Tell me if you consider yourself a connoisseur, or tell me where you got the best cookie you have ever eaten, or anything at all. This giveaway is open to everyone everywhere, from Milwaukee to Edmonton to Munich and all points in between. If you're just meandering over here for the first time, I should tell you that these giveaways are happening every day of the month of Vegan MoFo, and each of them lasts one day. Please note also that if you're not checking back to see if you have won and don't have a visible profile enabled, I may have no way to contact you if you win!
The winner of yesterday's Turtle Island/Tofurky giveaways are supercarrot, Heyitsbeth, kelly g, and dolmadez! Congratulations to you all! Please send your name and address to me at miso
...
@yahoo.com. (<---make sure to click on the . . . link for the rest of the email address. This is a spam avoidance thing.)